My Beginners Guide To

If you are new to Star Trek, its universe can seem a bit daunting at first. Four different generations, a mass of books, videos, PC game and any other merchandise you can think of.
Here I will try to break down to code so you hopefully have a comprehensive beginner guide to Star Trek. After reading this page you will be able to 'boldly go where no man has gone before..' and '..explore strange new worlds..'!

The ORIGINAL Series (TOS)
I expect you will have heard of Captain Kirk and the USS Enterprise 1701 & 1701A and 'to boldly go where no man has gone before..'. Well if you haven't, you are either a lair or dead!
Kirk and the crew of the USS Enterprises are sent on a 5 year mission (2264-2269) 'to boldly go were no man has gone before, and to explore strange new worlds'. Which of course they do.

The series was written and created by a man called Gene Rodenberry ().
Captain Christopher Pike

Captain Christopher Pike was the first captain of the Starship Enterprise (2250). He conducted two five year missions of exploration. In 2263 James T. Kirk took command of the Enterprise and Pike was promoted to fleet captain.
Captain James Tiberius Kirk

James Tiberius Kirk, born (2233-2371, if that seems a bit long to you, just read on and you'll find out why!) in Iowa USA on planet Earth. He entered Starfleet at the age of 17. The USS Farragut was said to be his first posting after leaving Starfleet Academy. On a mission on Tyco 4 a cloud creature destroyed the USS Farragut. Kirk blamed himself for the destruction and the killed crew including his captain (although he late found out that, if he had intervened he would have been dead to -'First adventure'). In 2264 Kirk and the a new crew began there five year mission. This made up the 3 sessions of the original series (TOS). After its successful completion Kirk was promoted to admiral in 2270. In 2271 Kirk and the Enterprise encounter V'ger in the first Star Trek film. After its success the crew made it six times to the big screen.

Star Trek I - The Motion Picture
Star Trek II - The Wrath of Khan
Star Trek III - The Search for Spok
Star Trek IV - The Voyage Home
Star Trek V - The Final Frontier
Star Trek VI - The Undicovered Country
Star Trek the Next Generation (TNG or ST:TNG)
Captain Jean Luck Picarred

Jean-Luc Picard (2305- ) was born in Labarre (France) on planet earth. He tried to join Starfleet in 2322 but failed the entree exam. He retried one year later, and this time passed the exam and was exepted in to Starfleet. There he studied archaeology under Professor Richard Galen and graduated in 2327. Picards first posting was on the USS Stargazer. An accident on a disasters mission killed the Stargazers captain and Picard took over bridge. For his bravery he was promoted to captain and took the Stargazers bridge from 2333-2355 when she was destroid. In 2363 Picared was given command of the


Galaxy-class starship USS Enterprise 1701 D.

Nothing could have prepared Jean-Luc Picard for his assimilation be the Borg in 2366. He was abducted and assimilated to become Locutus of Borg.


Assimilated means that, that person in it's entire being (thoughts and all) is added to the Borg collective. As the Borg where trying to assimilate earth, Starfleet sent ships to defend it. It came to battle at Wolf 359. With the knowledge of Locutus the Borg destroyed 39 Federation Ships. The Enterprise crew was able to free Locutus and Dr Beverly Crusher removed the Borg implants. After several weeks of rehabilitation Picard retook the command of the Enterprise. He was fully rehabilitated from the physical torment, but never fully recovered from the terrible psychological trauma. Picard had further encounters with the Borg later in life.
Up to now Picard and the crew of the Enterprise (D&E) have made it three times to the big screen:
Star Trek VII - Generations
Star Trek VIII - First Contact
Star Trek IX - Insurrection
<!- @WORK ->

<!- @WORK ->
Deep Space Nine (DS9)
Captain Benjamin Sisko
Space Station Deep Space Nine (with docked Enterprise D).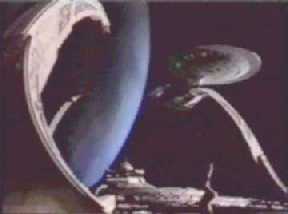 Star Trek Voyager (VOG or ST:VOG)
Captain Catherin Janway
---
TO > Star Trek news
Blackstar - Buy all the Star Trek movies BOXSET (incl. Insurrection ) cheap and get FREE WORLD WIDE delivery
---
---
---
© 24.07.99 Chris Freundel
---